Bonjour, Knights! As we approach the end of the special story event, Shogun Chronicles: The Whitewing Samurai, we've got another burst of news to share, featuring another Oedo-themed character, the return of another story event, and other monthly events to share. Let's jump into it!
If you've read the story for Shogun Chronicles: The Whitewing Samurai, you'll know that it's not just Kuka that dons new Eastern-themed attire during her time in Oedo town: Ninon does too, and we're giving her a brand new character in Ninon (Oedo) to reflect this! While Ninon already eked Eastern flair, there's a certain allure about her Oedo variant that has undeniable charm. But it's not just her looks – get ready to see Ninon's ninja traits kick into overdrive, with a different set of ninja arts that provide a vastly different toolkit, focusing more on single target damage and skills that'll do even more bonus damage if the strike results in a critical hit. After all – ninjas are known for their pinpoint accuracy. Ninon is also totally known for her pinpoint accuracy!
Like other Focus Gachas, Ninon (Oedo) will enjoy boosted draw rates when performing draws on the Focus Gacha, which means it'll be your best chance to obtain this new character. She'll also be available for redemption via character points, if her ninja skills evade your grasp for too long and you fail to rendezvous with her. And, like Kuka (Oedo) before her, she'll still be available in the regular Premium Gacha rotation after her Focus Gacha ends.
The Ninon (Oedo) Focus Gacha runs for 10 days, from 4/22, 23:00 UTC to 5/2, 22:59 UTC. Mark your calendars, Shogun!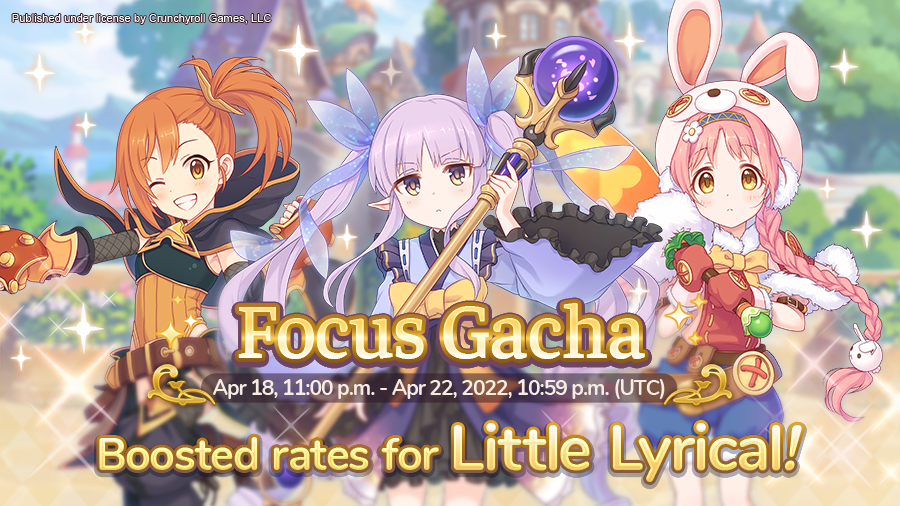 "But wait!", we hear you cry. "Kuka (Oedo) ends on 4/18 – and Ninon (Oedo) starts on 4/22! How will we ever survive without a Focus Gacha to bridge the gap?"
Heyas, young Knights. Of course, we have something in between! It's a special Little Lyrical mini-Focus Gacha! For a short period of time, you'll be able to enjoy boosted draw rates for Misogi, Mimi, and Kyoka. All three characters will be available for redemption via character points, too. If you're missing out on any of these characters, opportunities like this for boosted rates for existing characters are few and far between – make the most of them!
The Little Lyrical Focus Gacha runs for four days, from 4/18, 23:00 UTC to 4/22, 22:59 UTC. All three characters will be available for redemption via character points, too. But why is Little Lyrical getting their own Focus Gacha, you ask? Well…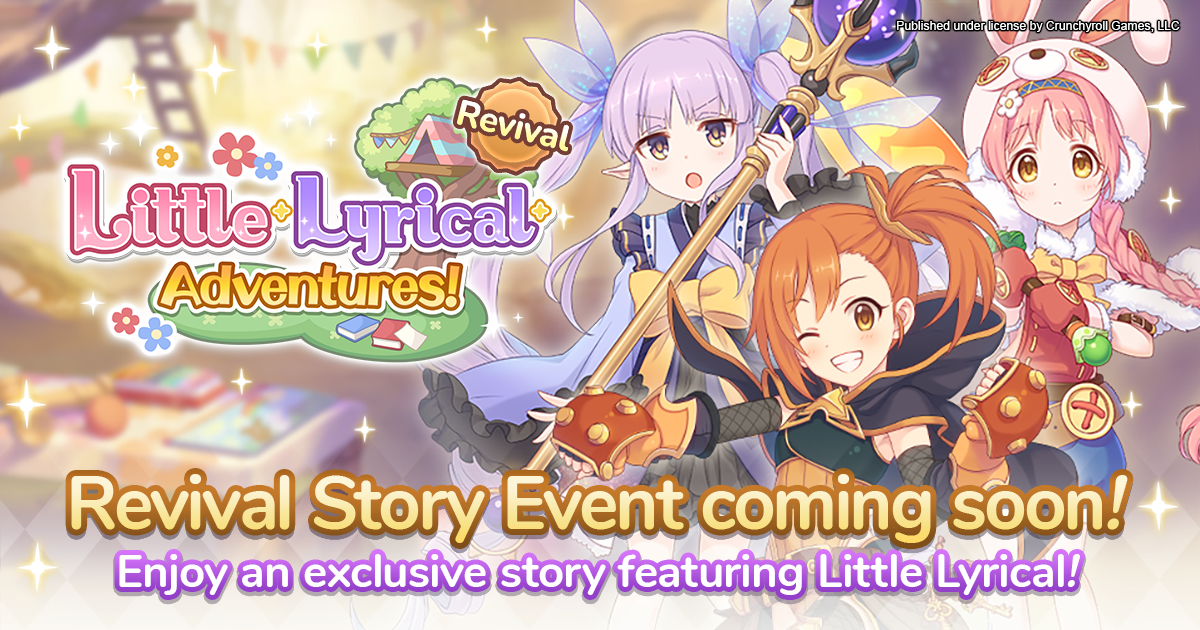 The reason is pretty simple: next up in our story event revival series is the return of Little Lyrical Adventures! As a study group session breaks out into a fight between friends, the trio of Misogi, Mimi, and Kyoka make amends by going on an adventure… and potentially biting off a bit more than they can chew. They'll need to work together to get out of this precarious situation! 
If you weren't able to catch the event the first time or just want to experience the story again, this is a great chance for you to do so. If that wasn't enough, you'll get a new set of missions that will allow you to pick up even more rewards even if you've cleared the event before. A Very Hard version of the boss will also be introduced to provide a further challenge for all Knights. The Victory Medal Gacha lineup has also been revamped in our Revival event. Take a look at the updated key rewards:
Lineup 1: 2 Sets of Misogi's Memory Shard x 10
Lineup 2: 2 Sets of Mimi's Memory Shard x 10
Lineup 3: 2 Sets of Misogi's Memory Shard x 10
Lineup 4: 2 Sets of Mimi's Memory Shard x 10
The Little Lyrical Adventures! revival story event will be available from 4/18, 23:00 UTC to 4/25, 22:59 UTC.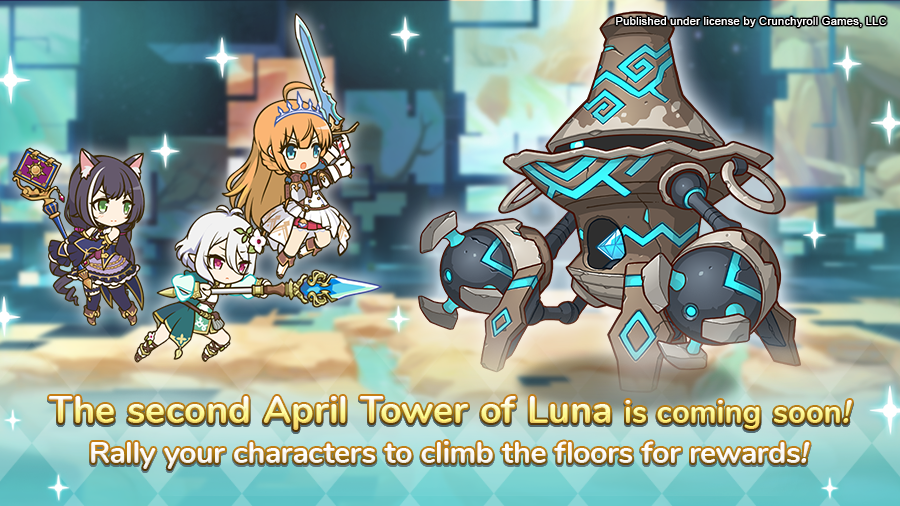 We know you've been looking forward to putting your new units to good use – it's time for the limited-time challenge to make a return. The Tower of Luna opens its doors once again for challengers to climb! The supercharged Dungeon is back and it has prepared yet another new set of 20 floors complete with unique monsters, Shadows, and a new set of Bosses to beat, with plentiful rewards for your troubles. Don't worry, your progress from the last Tower of Luna event is carried over and you can continue the ascent from the floor you left off. Remember, your party of characters can carry over between floors (assuming none of them hit 0 HP), and you can reset your characters to full HP once a day. Can you make the climb up to the 250th floor and complete the EX mission?
The Tower of Luna reopens its doors for six days, from 4/17, 13:00 UTC to 4/22, 15:59 UTC. If you haven't done so already, you'll need to finish Main Story Quest 9-1 in order to access the Tower. We wish you the best of luck, adventurers!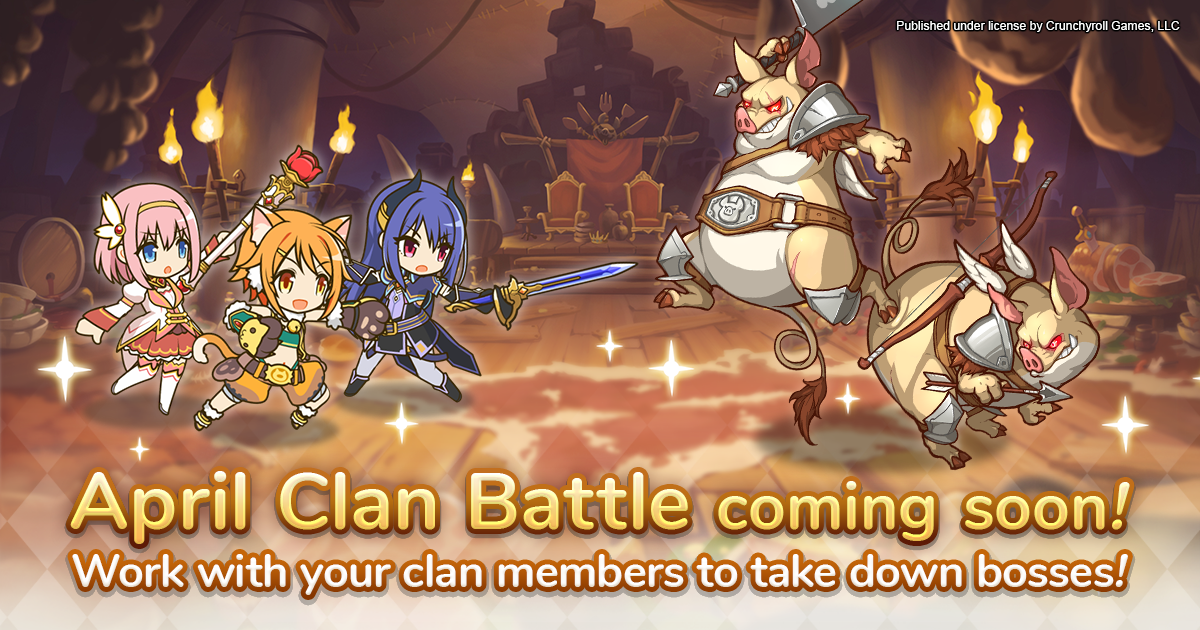 The Twin Pigs are back at it again. Rally your allies, start drafting your teams, and practice those timelines, because the April Clan Battle is coming soon! Work with the aid of your fellow clan members to take on monsters too powerful for adventurers to handle alone. The April Clan Battle features a gauntlet of five bosses, and you'll be able to perform up to three clashes a day on whatever boss your clan's currently on, earning a clash attempt for every 300 stamina spent. After the event is over, you'll earn precious Memory Shards, Clan Coins, and Jewels, depending on how well your clan did! The reward structure is the same as before, but you'll earn Chika Memory Shards this time around.
The April Clan Battle is live for five days, from 4/26, 13:00 UTC to 5/1, 07:59 UTC. Make sure to get in those three hits per day!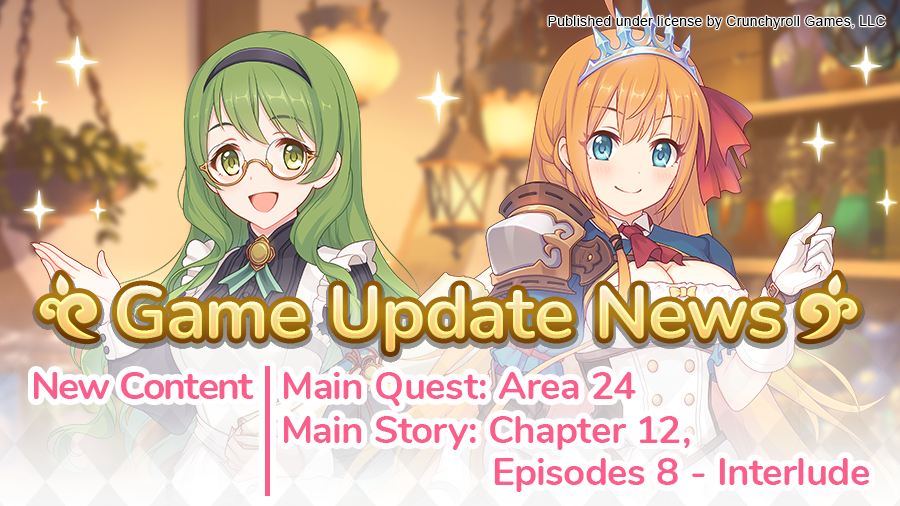 For the month of April, we're also dropping new content. Make the treacherous trek up Redius Rockies (West), featuring new enemies, new challenges, and new rewards for your troubles. Here, you'll find new equipment that can raise your characters to a maximum of 5 equips at rank 13, as well as new Hard Quest nodes for Aoi, Eriko, and Ruka. Making your way through Area 24 will also unlock up to the end of Chapter 12 of the Main Story.
We'll also be increasing the level cap from 130 to 133. With the addition of Kuka (Oedo) and Ninon (Oedo), you'll want to start gathering those EXP potions and Mana now! For further customization, new BGM will be added to the Memorial Jukebox. 
The April content drop lands on 4/19 at 13:00 UTC. 
To further help with gathering resources and to make an upgrade to the Guildhouse, the following furniture will have their max level increased from 13 to 14:
Karin's Table
Snack Table
Potion Creation Device
Mana Creation Device
This new max level for the furniture will take effect on 4/26, 13:00 UTC.
For even more added customization, we're also boosting the Guildhouse Furniture Storage Capacity from 600 to 900. We know you've been waiting to get your hands on even more furniture to create more of those creative room designs. We look forward to seeing more of your creations!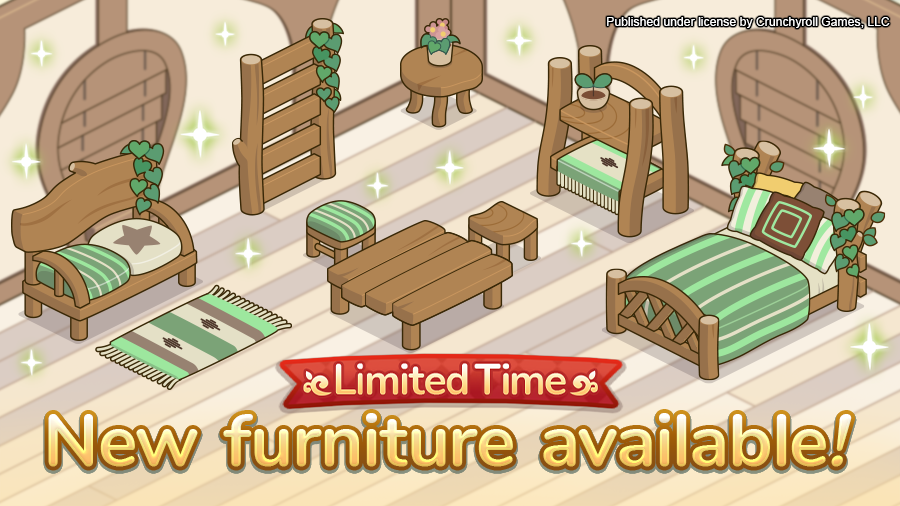 To help end off the month of April, we're also releasing a new limited-time brown furniture set. Get in touch with nature with our woodland-inspired furniture as you deck out your guildhouse into the perfect cozy cabin! Whether you plan to use it with our previous furniture sets to create some masterpieces or just want to use it alone to create a forest wonderland, this set is here to satisfy your inner architect.
This limited-time furniture set will be available starting from 4/26, 23:00 UTC, so prepare to start setting up your little forest in your very own guildhouse. It will only be available until 5/29, 22:59 UTC, so be sure to watch your calendars before this furniture set disappears. The full list of the Woodland furniture set is as follows:
Woodland Bed
Woodland Fence
Woodland Partition
Woodland Stool
Woodland Ottoman
Woodland Chair
Woodland Armchair
Woodland Sofa Bench
Woodland Shelf
Woodland Side Table
Woodland Coffee Table
Woodland Dining Table
Woodland Wall
Woodland Flooring
Homemade Green Rug
Homemade Patterned Rug
With so much going on, we'd be remiss to not talk about our double drop campaigns. First off, during the Hard Quest Double Drop Campaign, you will obtain double Memory Shards, equipment, Mana, and other items when completing Hard Quests during the campaign period.
The Hard Quest Double Drop Campaign runs for six days, from 4/19, 13:00 UTC to 4/24, 12:59 UTC.
We also can't forget about the Dungeon, can we? There's nothing sweeter than getting double the Mana when completing Dungeon stages. Well, this is exactly what you'll be getting during the Dungeon Double Drop Campaign where clearing Dungeon floors will give double the usual Mana. 
The Dungeon Double Drop Campaign runs for 10 days, from 4/24, 13:00 UTC to 5/3, 12:59 UTC.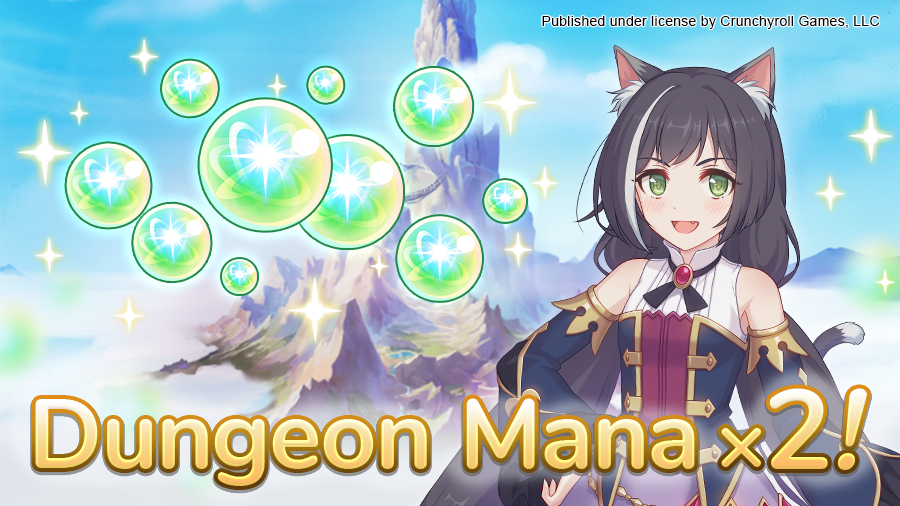 For easy reading and accessibility, included below is a summarized version of all the updates announced today. Thank you for all your support, and we hope you continue to enjoy Princess Connect! Re: Dive! 
See you in Astraea, Knights!
— Crunchyroll Games
*Note: All event details may be subject to change. Please check the in-game notifications at the start of the events for the full details.
Ninon (Oedo) Focus Gacha (4/22 23:00 UTC to 5/2 22:59 UTC)

Boosted rate-up for Ninon (Oedo) within the Focus Gacha.
Ninon (Oedo) will also be available for redemption via character exchange points.

Little Lyrical Focus Gacha (4/18 23:00 UTC to 4/22 22:59 UTC)

Boosted rate-up for Misogi, Mimi, and Kyouka within the Focus Gacha.
Misogi, Mimi, and Kyouka will also be available for redemption via character exchange points.

Story Event: Little Lyrical Adventures! Revival (4/18 23:00 UTC to 4/25 22:59 UTC)

Re-run of Little Lyrical Adventures! Story Event with modified rewards and challenges.

Tower of Luna (4/17 13:00 UTC to 4/22 15:59 UTC)

Unlocked after completion of Main Story Quest 9-1.
Complete each floor for rewards.
Reset your teams back to full health daily.
Progress made during this month will carry over towards future Tower of Luna events.
Floors 231-250 and EX Floor 250 Unlocked.

April Clan Battle (4/26 13:00 UTC to 5/1 07:59 UTC)
April Content Update (4/19 13:00 UTC)

Main Quest Area 24 unlocked.
Level cap increased from 130 to 133.
Character equipment cap increased from 13-4 to 13-5.
Chapter 12 of the Main Story fully unlocked.

Guildhouse Update (4/26 13:00 UTC)

Guildhouse furniture maximum level raised from 13 to 14 for the following:

Karin's Table
Snack Table
Potion Creation Device
Mana Creation Device

Guildhouse's maximum storage increased from 600 to 900.
New limited-time furniture added to the Guildhouse Shop (4/26 23:00 UTC to 5/29 22:59 UTC)

Hard Quest Double Drop Campaign (4/19 13:00 UTC to 4/24 12:59 UTC)
Dungeon Double Drop Campaign (4/24 13:00 UTC to 5/3 12:59 UTC)