When we said "undercover," we really meant undercover. It's just been revealed that elite spy Twilight, otherwise known as Loid Forger, will be infiltrating the back cover of popular weekly women's magazine anan with a casual "Twilight in the Afternoon" look, pictured below.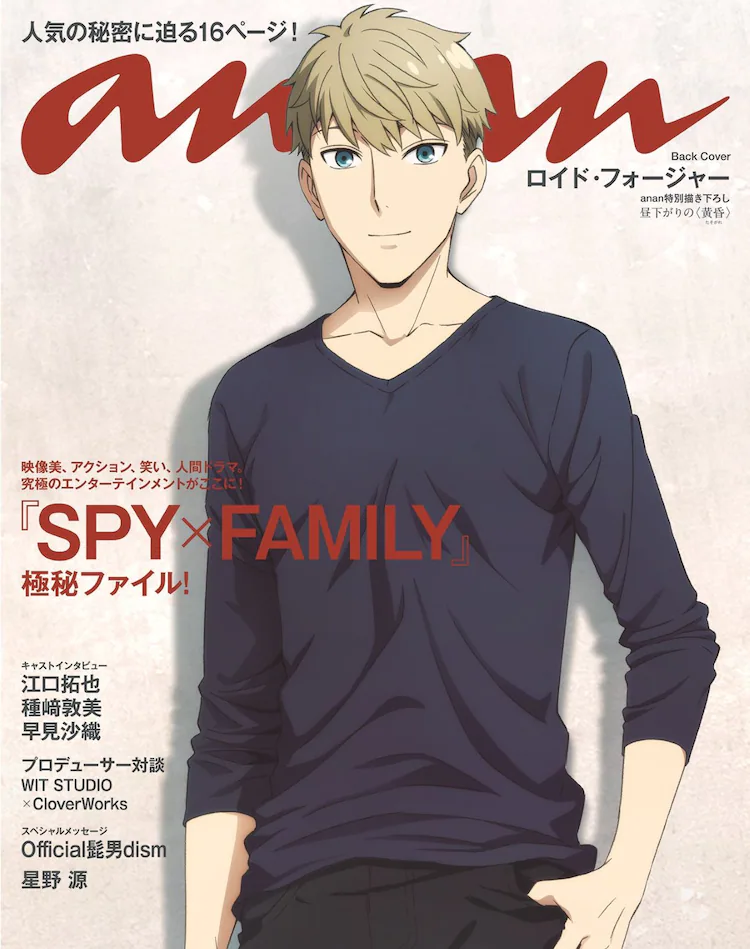 The issue, which is due out on Wednesday, May 18, will also feature interviews and photos with SPY x FAMILY's main cast members — Takuya Eguchi (Loid), Atsumi Tanezaki (Anya) and Saori Hayami (Yor) — plus comments from the producers at WIT Studio and Cloverworks and both theme song artists, Official HIGE DANdism and Gen Hoshino.
RELATED: FEATURE: 4 Reasons You Really Need To Give SPY x FAMILY A Try
If you're a fan of dynamic action-comedy anime, don't miss new episodes of SPY x FAMILY when they drop each Saturday at 8:30am PT, right here on Crunchyroll!
World peace is at stake and secret agent Twilight must undergo his most difficult mission yet—pretend to be a family man. Posing as a loving husband and father, he'll infiltrate an elite school to get close to a high-profile politician. He has the perfect cover, except his wife's a deadly assassin and neither knows each other's identity. But someone does, his adopted daughter who's a telepath!
Source: Oricon

Der shy man behind @Shymander, Liam is a timezone-fluid Aussie with a distinct fondness for anime, Eurovision and creating odd stats projects despite hating math.