The Niigata International Animation Festival, a new international animation film festival focusing on feature-length animated films, will be held in Niigata City, Niigata Prefecture, starting next year. The executive committee announced its launch at a press conference held in Tokyo on May 23.
The "Niigata International Animation Film Festival" will be held annually as an international film festival specializing in feature-length animated films of 40 minutes or more in running time. 25 to 35 films from around the world will be screened during the festival. Internationally acclaimed anime director Mamoru Oshii (Ghost in The Shell) will serve as the Chief Judge of its competition program, alongside Shinichiro Inoue, Senior Advisor to KADOKAWA, as the Festival Director.
The festival also plans to offer "The Future of Animation" to introduce works that have contributed to the evolution of animation and "Retrospective" to re-evaluate artists and movements, as well as various seminars. Oshii says, "There has never been an animation film festival dedicated to feature film competition with a focus on entertainment films. We want to select films that we feel passionate about, without regard to the size of the production company or the reputation of the director."
The first Niigata International Animation Film Festival is scheduled to be held at Niigata Shimin Plaza (Chuo-ku, Niigata City) and other venues from March 17 to 22, 2023. The number of paying visitors is expected to be around 12,000. 
Poster visual: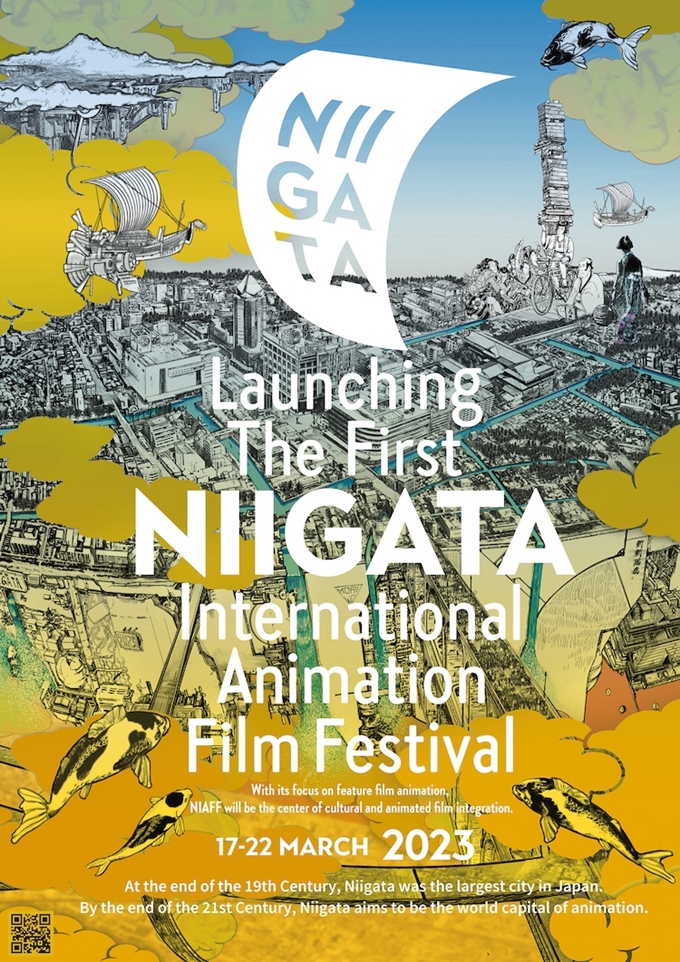 News report by Niigata's local station UX Niigata TV21:
---
Sources: NHK WEB, MANTAN WEB