The official Twitter for the Sword Art Online anime franchise has released a key visual for the forthcoming art exhibition event "The Art of Sword Art Online" to be held at The Ueno Royal Museum in Tokyo from July 2 to 24, 2022.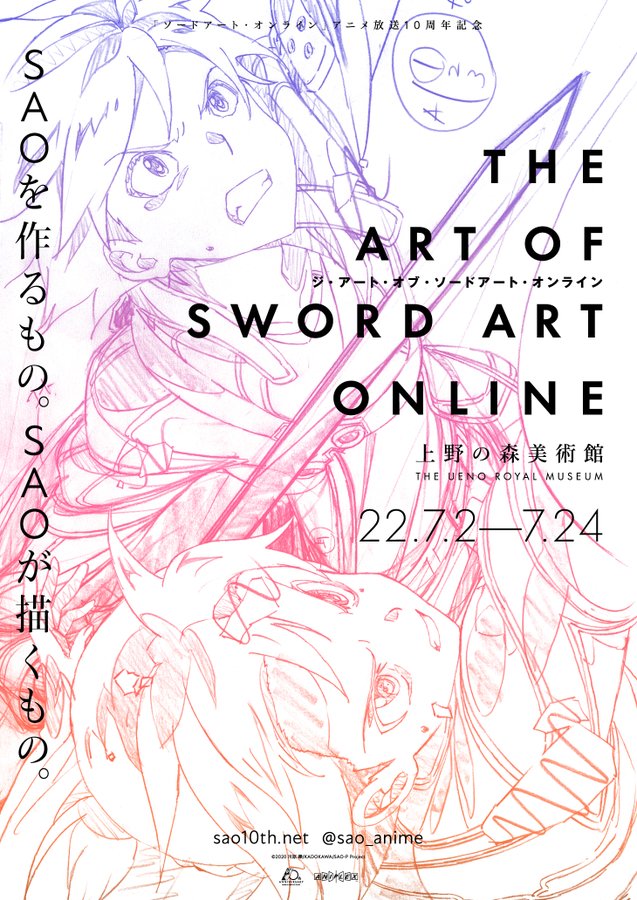 #SAO10th 情報解禁②
__________

◤キービジュアル解禁◢

???????????? ???????????? ???????? ???????????????????? ???????????? ????????????????????????

会場:上野の森美術館
2022年7月2日(土) -24日(日)

▽展示内容公開▽https://t.co/TXqo793X9L

▽チケット受付開始▽https://t.co/1di0VyyIC7#sao_anime pic.twitter.com/fPJnMMdD2o

— アニメ ソードアート・オンライン 公式 (@sao_anime) May 27, 2022
The exhibition will be held as part of the franchise's 10th anniversary project, which also includes the Blu-ray box set that contains the first two TV anime series in 2012 and 2014, the TV special EXtra Edition in 2013, and the feature film Sword Art Online The Movie: Ordinal Scale in 2017.
A variety of creative materials that trace the story of Kirito and other characters, including materials that have never been exhibited before, as well as newly drawn visuals by the series' participating creators, will be on display. The exhibition area is divided into the following five sections:
"00/link_start" – Entrance area to log in to the SWO world. A special movie for this exhibition will be shown.
"01/world" – Area to exhibit art boards and UI designs that build virtual reality and game worlds.
"02/life" – Area to exhibit the early drafts of character designs, as well as storyboards and original anime drawings depicting many famous scenes. Visitors can experience how Kirito, Asuna, and the others were drawn and lived out their stories.
"03/action" – Area where original drawings of powerful action scenes are exhibited. Visitors can experience the heart-stirring action through the original anime drawings and large continuous panels that cover the walls.
"04/continue" – Area featuring new illustrations specially drawn for this exhibition, the place where the SAO's journey to the future begins.
Announcement PV for "Sword Art Online 10th Anniversary BOX" (October 31, 2022 release): 
#SAO10th 情報解禁①
__________

アニメ放送10周年を記念して「ソードアート・オンライン 10th Anniversary BOX」が10月31日に発売決定!

映像や音声&シリーズ初となる絵コンテ集や版権集等、豪華な特典を収録いたします。

1万セット限定での販売となります!
お楽しみに!#sao_anime pic.twitter.com/Ry8KSxx6ej

— アニメ ソードアート・オンライン 公式 (@sao_anime) May 27, 2022
RELATED: Sword Art Online -Progressive- Sequel Film Sets Fall 2022 Release with Teaser Visual
---
Sources: "Sword Art Online" anime official Twitter, "The Art of Sword Art Online" official website
©Reki Kawahara/Ascii Media Works/SAO Project