The official website for the forthcoming live-action film adaptation of Shin Sawada (story) and Renji Asai's (arts) action comedy manga Violence Action has posted a main visual and a 60-second full trailer featuring the theme song "Clash" by four-member Japanese rock band [Alexandros].
The Kanna Hashimoto (Kagura in Gintama, Kaguya Shinomiya in Kaguya-sama: Love Is War)-starring film is set to be released in Japan on August 19, 2022. The shooting was already wrapped up in February 2021. The film is the first Japanese film to use the cutting-edge "volumetric capture technology" developed by the Sony Group. By converting the cast members shot by dozens of surrounding cameras into 3D digital data, it realizes inexhaustible camera work and creates powerful action scenes.
Full trailer:
Main visual wit the tagline: "This assassin is a part timer, but she is super invincible."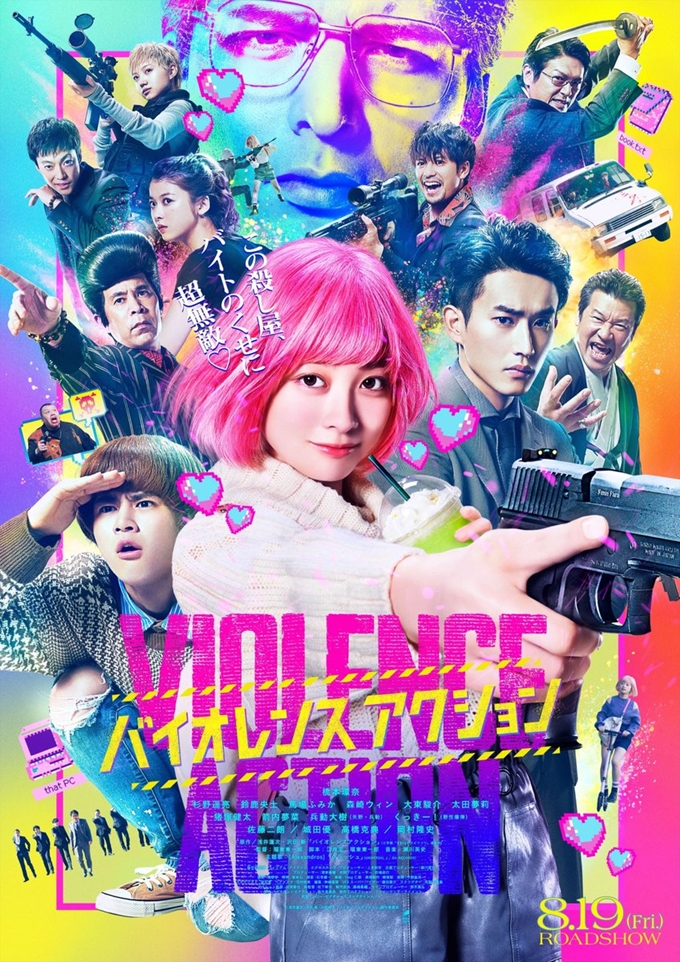 ||◤ 主題歌は[#Alexandros]の新曲
「クラッシュ」に決定???????? ◢||

ハード&エモーショナルなロックで
映画を彩ります⚡️@alexandroscrew

????────
音楽と新感覚映像が融合!
新次元 "脱力系" アクションエンタメ
『#バイオレンスアクション』
────???? pic.twitter.com/g4igcToJ0v

— 映画『バイオレンスアクション』公式 (@VAmovie_JP) June 2, 2022
The original manga has been serialized on Shogakukan's Yawaraka Spirits website since April 2016 and has released six tankobon volumes so far. Over 500,000 copies of the tankobon books have been printed, while online access has exceeded ten million PVs.
Its story centers on the protagonist with a short pink bob, Kei Kikuno, who is working hard at a part-time job while attending a vocational school in order to obtain her Level 2 Nissho Bookkeeping Certificate. Her part-time job is as an assassin by appointment only, and Kei is a very skilled assassin who boasts the highest appointment rate. She is unafraid to kill her target, no matter who it is. And one day, she receives the worst request in her career…
Manga 1st and 6th volume covers: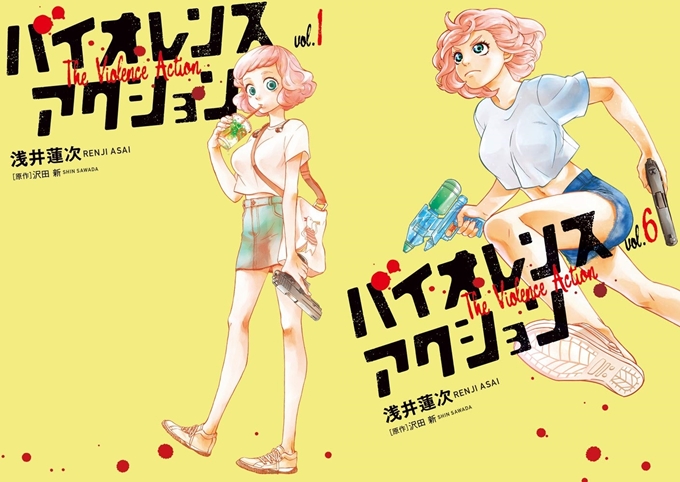 RELATED: Kanna Hashimoto Plays A Pink-haired Assassin in Live-action Film Violence Action Teaser Trailer
---
Source: "Violence Action" live-action film official website / Twitter
© Shin Sawada, Renji Asai, Shogakukan/"Violence Action" Productuion Committee