It was revealed at the third stage greeting event held at the Marunouchi Piccadilly theater in Tokyo on June 5 that Mobile Suit Gundam: Cucuruz Doan's Island sold approximately 150,000 tickets and earned 300 million yen (2.36 million USD) on its first two days of Friday and Saturday.
The 108-minute film was released in 184 theaters across Japan on June 3. Reportedly, its first day gross was about 137 million yen (1.08 million USD), which was 62 percent of that of the Gundam franchise's previous feature film Mobile Suit Gundam Hathaway released in June 2021.
The film earned an estimated 255 million yen (2 million USD) on Saturday and Sunday, so its three-day total is expected to reach around 400 million yen (3.15 million USD). Actual numbers will arrive in tomorrow's our weekend box office top 10 report.
【興行収入約3⃣億円!】
\観客動員数約15万人/

『機動戦士ガンダム ククルス・ドアンの島』
全国184館にて公開中✨
劇場にお越しいただいた皆様、厚く御礼申し上げます。

そして、まだの方も、既にお越しの皆様もぜひ引き続き劇場へ????#ククルス・ドアンの島 #ガンダム #安彦ガンダムを見届けろ pic.twitter.com/Bc62NcAxCR

— 機動戦士ガンダム ククルス・ドアンの島 (@g_cucuruzdoan) June 5, 2022
RELATED: Yoshikazu Yasuhiko Says Cucuruz Doan's Island will be His Last Gundam Film and Anime Work
The film is based on the first Mobile Suit Gundam TV anime's 15th episode of the same name, which was aired in Japan on July 14, 1979. 
Main poster visual: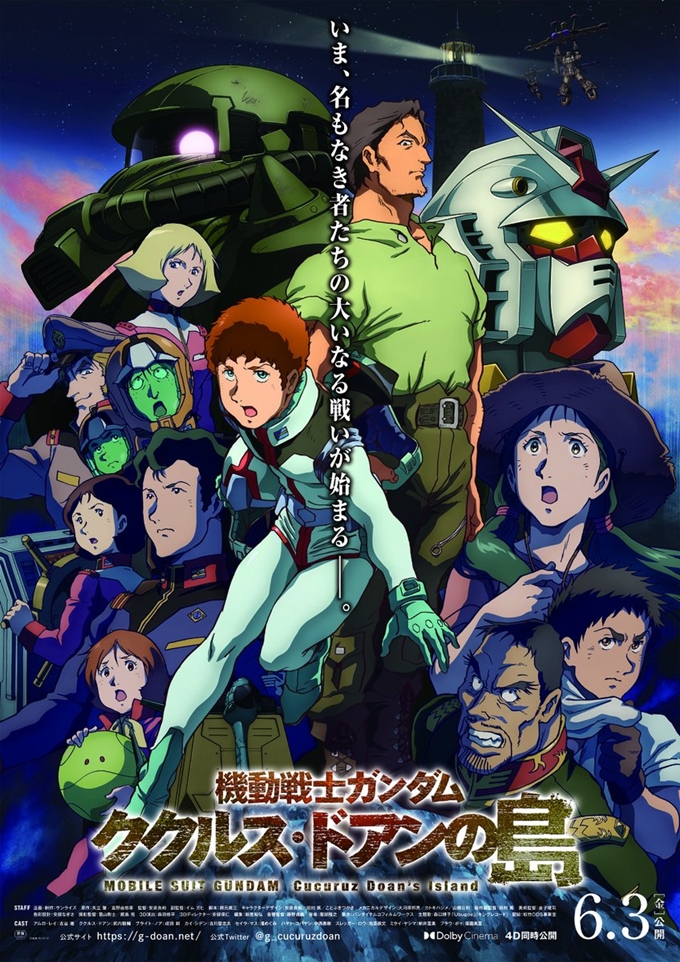 RELATED: Listen to Hiroko Moriguchi's Beautiful Voice in Gundam: Cucuruz Doan's Island Theme Song MV
---
Source: "Mobile Suit Gundam: Cucuruz Doan's Island" official Twitter 
©SOTSU, SUNRISE