A live-action film adaptation of Yama Wayama's Karaoke Iko! comedy manga is confirmed to be in the works for a release in 2023. Nobuhiro Yamashita (Cream Lemon, Hardcore) is attached to direct on a screenplay by Akiko Nogi (Inu-Oh).
The manga was initially published as the author's doujinshi work in 2019, then released commercially from KADOKAWA in the following year. He says, "This manga was originally drawn out of my admiration for Japanese films. I am very happy to see it come to fruition as a film. I also loved the works of the director, Nobuhiro Yamashita, and the screenplay writer, Akiko Nogi, so I can't help but look forward to the new 'Karaoke Iko!' created by fusion."
Synopsis:
"Can you teach me how to be a better singer?" A yakuza man who wants to be a good singer asks a serious junior high school student with evil tongue for lessons! Satomi Oka, the choir club captain, is invited to karaoke by a yakuza man, Kyouji Narita, and asked for singing lessons. He says that he must improve at all costs in order to avoid the "horror" that awaits those who come in last place in the yakuza clan's karaoke contest. The song Kyouji chooses is "Kurenai" by X Japan. Satomi reluctantly teaches Kyouji how to sing, but before long a strange friendship develops between them. What will be Satomi's fate? And will Kyouji be able to escape the bottom of the competition?
The role of Satomi, one of the two protagonists, is chosen by audition. Filming is scheduled to be held from November to December 2022. Applicants must be males between the ages of 12 and 16, and no singing experience, acting experience, and voice change period are required. More details can be found here.    
#和山やま「カラオケ行こ!」
2023年実写映画化決定????
‥‥‥‥‥‥‥‥‥‥‥‥
合唱部部長の #岡聡実 と
歌がうまくなりたいヤクザ #成田狂児 の
奇妙な友情を描く傑作コミック!

岡聡実役オーディション開催決定!#映画カラオケ行こhttps://t.co/KMP9H8IUnF pic.twitter.com/Gl09aziEiX

— 映画『カラオケ行こ!』公式 (@moviekaraokeiko) June 9, 2022
Manga tankobon cover: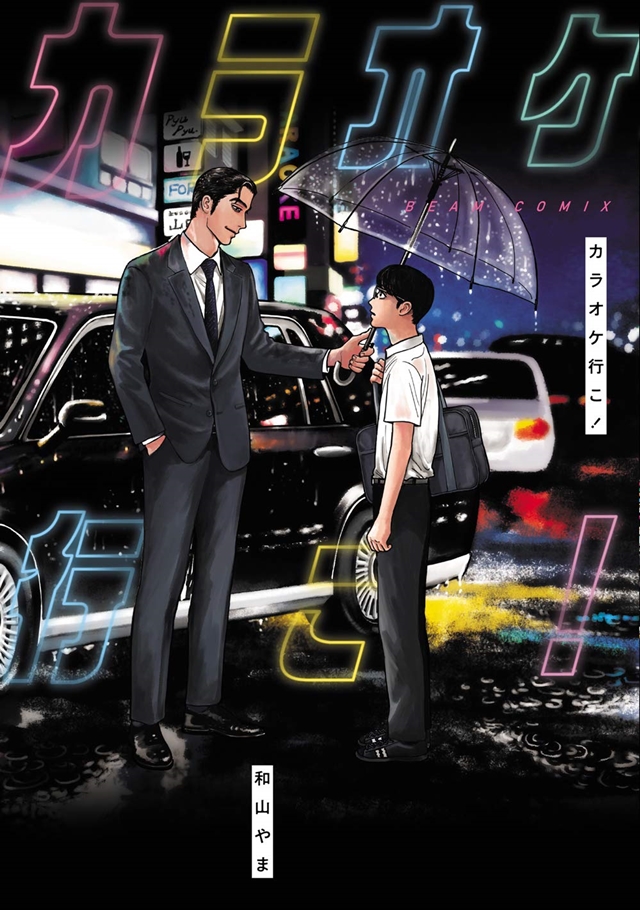 ---
Source: KADOKAWA press release
©2023 "Karaoke Iko!" Production Committee
©Yama Wayama/KADOKAWA