It is confirmed today that ODD FES, the forthcoming special event for the mystery TV anime series ODDTAXI to be held at Nakano ZERO in Tokyo on June 18, will also be live-streamed worldwide on the Stagecrowd platform for overseas fans. The anime has been distributed overseas in North America, Taiwan, and Brazil, and has received considerable attention and acclaim.
PV:
The event will be held twice on the day: the DAY part from 15:45 (JST) on June 18 / 23:45 on June 17 (PT) and the NIGHT part from 19:00 (JST) / 03:00 (PT) on June 18. It consists of three programs:
1. Original reading play "Hoshi ni Negai wo" (When You Wish Upon a Star)
  written by Kazuya Konomoto (TV series' screenplay writer)
The proprietress, Taeko, runs the izakaya "Yamabiko". Among those visiting the restaurant that day are Shirakawa, a nurse, and Imai, a big fan of Mystery Kiss' Rui Nikaido. Kabasawa, a university student who wants to get buzzed, is broadcasting live on the streets of Shinjuku, where street musicians are singing. Hungry Yano and Sekiguchi get into trouble at a karaage restaurant. What is it that each of them wishes to the stars under the night sky of Tokyo, where meteor showers shine brightly?
Performers: Riho Iida, Moeka Koizumi, Manatsu Murakami, Kosei (Miki/the NIGHT part only), Asei (Miki/the NIGHT part only), Yusuke (Daian), Atsuhiro Tuda (Daian), Takashi (Trendy Angel), Tomoko Murakami (Morisanchu), Keisuke Takai (Garyrecord), phoenix (Garyrecord), Kodai Sakai, Chado Horii, METEOR
2. Talks session "ODD FES Debate Talk"
Participants: Riho Iida, Moeka Koizumi, Manatsu Murakami, Kosei (Miki/the NIGHT part only), Asei (Miki/the NIGHT part only), Yusuke (Daian), Atsuhiro Tuda (Daian), Takashi (Trendy Angel) 
3. Musical Stage
Performers: skirt, PUNPEE, Tonyfrank, VaVa, OMSB
Key visual: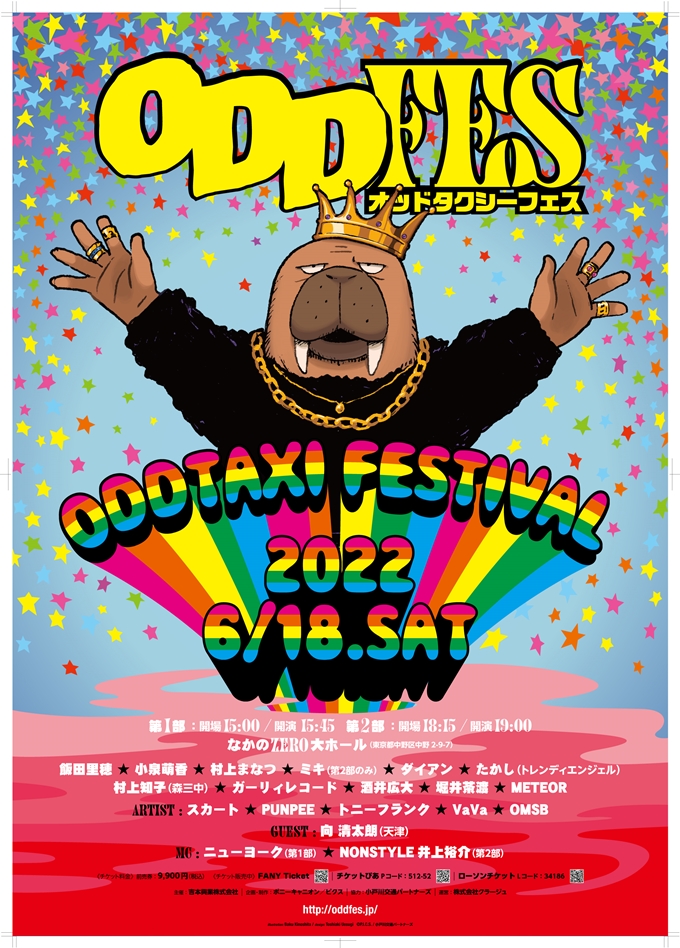 ????#オッドタクシー フェス????

6/18(土)開催????#ミキ さん #ダイアン さん #トレンディエンジェルたかし さんら豪華キャストが出演✨
脚本・此元和津也書き下ろし朗読を予定しています✍
お見逃しなく!

チケット情報ほか詳細はこちら☟https://t.co/EotWRDEUDY#ODDFES #oddtaxi pic.twitter.com/rClxy0SfAK

— アニメ「オッドタクシー」OFFICIAL (@oddtaxi_) June 14, 2022
---
Sources: Yoshimoto Kogyo press release
© P.I.C.S./ODDTAXI partners